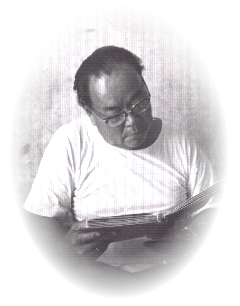 The original foundation for Tao Hong Tai was established by Mr. Tia Song Hong (pictured on the left) and his close friend, Mr. Er Jer Ming, in 2474 who before immigrating to Thailand produced ceramics together in Bangkoey, China. The two friends came to Ratchaburi while searching for the ideal location to establish their own ceramic factory in Thailand. They took a sample of clay which they found was abundant in Ratchaburi to test it at the Lingsuiha Kiln at Samsang, Bangkok. When they saw how good the clay was after testing it, they convinced other friends to help establish "Tao Seng Lee" (which means "Successful and Wealthy Ceramic Factory"). The group of friends produced small ceramic jars for fish sauce, large jars which were used to hold water, and pots for potting plants. One of the main purposes for establishing their ceramic factory in Thailand was so that they would no longer need to import ceramics from Mainland China.
In 2486 (1943), Mr. Tia Song Hong and Mr. Er Jer Ming separated from the first factory established by the original group of friends and established a second factory called "Tao Sae Tai" (which means "Ceramic Factory from Thailand"). Together they produced the first large brown water jars with the light dragon design on them which since then have been associated with Ratchaburi. However, in order to create this famous dragon design, they had to import the white clay from Mainland China.
In 2497 (1954) the two friends expanded the Tao Sae Tai Factory and a short time later Mr. Tia Song Hong decided to separate from this factory to establish his own factory which is now known as "Tao Hong Tai" (which means "Mr. Hong's Ceramic Factory"). Since then Mr. Tia Song Hong's two eldest sons, Chairat Supanichvoraparch and Chanchai Supanichvoraparch, followed in their father's footsteps not only learning the ceramic production but also expanding their product line to include decorative ceramics as well as marketing to the international markets including Europe, the Americas, and Australia. The two brothers learned all aspects of ceramic production as well as developing their own special techniques which helped to establish Tao Hong Tai as the name states "the producer of excellent ceramics." They not only continue to produce a wide range of antique and modern designs and different sizes but they also produce custom designs to the customers' specifications.
Presently the next generation of Tao Hong Tai, Pongsak, son of Chairat, and Wasinburee, son of Chanchai, carry on the traditions of Tao Hong Tai. Pongsak, who earned a Masters Degree in the United States, handles much of the inventory control, marketing, sales, and customer relations as well as overseeing the vast number of craftsmen and artisans that work for the factory. Wasinburee who studied ceramics in Germany for many years oversees production as well as demonstrates his artistic talents in producing modern ceramics which rival those of famous artists throughout the world. He is constantly creating new designs and experimenting with glazes. Wasinburee and many of his creations have been featured on many Thai television programs and in several publications including Dichan magazine, one of Thailand's leading magazines, and he is presently teaching the art of ceramics in several Thai universities.